Posts for tag: dentures
By JP Dental Care
December 26, 2019
Do you feel self-conscious about your appearance after tooth loss? Improving your smile can be as simple as restoring missing teeth with dentures provided by your Reno, NV, dentist, Dr. Jintae Park of JP Dental Care.
What benefits do dentures offer?
The loss of your teeth may affect your self-esteem and have an impact on your social and professional life. If you're embarrassed by your smile, you might be less likely to accept social invitations or apply for a job or promotion. Replacing your lost teeth with full, immediate, partial or implant-supported dentures can offer a much-needed boost to your self-confidence and social life.
Dentures also provide several other benefits, including:
No Need for Dietary Restrictions: Eating becomes much more difficult if you've lost all or most of your teeth. Although you could eat soft or liquid foods only, restricting your diet to soup, yogurt, applesauce and pureed foods may quickly become monotonous.
Better Nutrition: You may not receive the nutrients, vitamins and minerals you need for good health if you avoid certain foods due to tooth loss.
Healthier Remaining Teeth: Although you may have found a way to bite and chew with your remaining teeth, you might be putting those teeth at risk if you don't get dentures. Relying on just a few teeth to chew can result in damage or excessive wear to the teeth. Fortunately, partial dentures will limit excess stress on your remaining teeth and help them stay strong and healthy.
Clear Speech: Tooth loss may affect your ability to speak clearly. You may find yourself struggling to pronounce certain words or sounds and notice that your speech is slurred. Dentures, no matter what the type, will improve your speech and make communicating much easier.
Enhance your smile with dentures. Call your Reno, NV, dentist, Dr. Jintae Park of JP Dental Care, at (775) 853-0503 to schedule an appointment.
By JP Dental Care
October 29, 2018
There are many different types of dentures. Some dentures are used to replace a few missing teeth, while other types can replace a full
row of missing teeth. Further, dentures fill in the gaps where teeth are missing, restore normal tooth functioning, help support sagging muscles in the face, and correct speech that had been altered by missing teeth. A dentist can help you decide which type of dentures is right for you. At JP Dental Care, Dr. Jintae Park is your dentist for different types of dentures in Reno, NV.
Types of Dentures
The different types of dentures fall into two main categories: full and partial. Full dentures are also referred to as complete dentures and are used to replace a full row of teeth when no natural teeth remain. Partial dentures are used when some natural teeth remain so only partial replacement of teeth is needed.
Three main types of full dentures include immediate, conventional, and implant-supported overdentures. Immediate full dentures are worn temporarily while waiting for conventional full dentures to be made. Conventional full dentures are customized for an ideal look and fit. These dentures are made to perfectly fit your mouth and are meant to be worn long-term. Implant-supported overdentures are held in place by a few dental implants rather than a dental adhesive. The implants provide stability and support for the overdentures.
The two main types of partial dentures are removable and transitional. Transitional partial dentures are made from plastic and are only meant to be worn temporarily while waiting to have dental implants placed. Removable partial dentures are a lightweight metal-based denture that can be worn long-term. They are also a more affordable alternative for replacing missing teeth, as compared to such tooth replacement options as dental implants or fixed bridgework.
There are several different types of dentures available and a dentist can recommend which type is right for you. For dentures in Reno, NV, schedule an appointment with Dr. Park by calling JP Dental Care at (775) 853-0503.
By JP Dental Care
January 07, 2018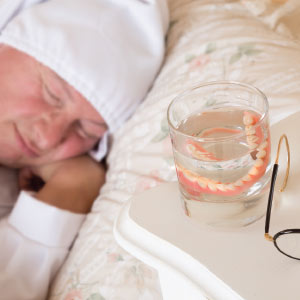 Maybe you don't like to be without teeth — ever. Or maybe you get a little forgetful sometimes. Whatever the reason, if you're wearing your dentures to bed at night, we have one message for you: Please stop!
Sleeping in dentures can have serious health consequences. A recent study published in the Journal of Dental Research found that nursing home residents who wore their dentures to sleep were 2.3 times more likely to be hospitalized or even die of pneumonia as those who did not sleep in dentures. But how can wearing dentures at night more than double your chances of getting a lung infection?
As the study noted, pneumonia-causing bacteria can readily be moved from the mouth to the lungs simply by breathing. And dentures that are not removed at night can become breeding grounds for all kind of bacteria and fungi (such as yeast). That's what makes them potentially dangerous.
Another condition often seen in people who wear upper dentures continually is called denture stomatitis, which is characterized by a red, inflamed palate (roof of the mouth) that has been infected with yeast. The yeast microorganisms can also infect cracked corners of the mouth, a condition known as angular cheilitis. Moreover, it has also been shown that people who sleep in dentures have higher blood levels of a protein called interleukin 6, which indicates that the body is fighting an infection. Need we go on?
Wearing dentures is supposed to improve your quality of life, not reduce it. So promote good health by taking your dentures out at night, and sticking to a good daily oral hygiene routine:
Remove and rinse your dentures after every meal.
Brush your dentures at least once a day with a soft toothbrush or denture brush and dish soap, liquid antibacterial soap, or denture cleanser (but don't use toothpaste — it is too abrasive).
Store your dentures in water or a solution made for this purpose.
Brush your gums and tongue every day with a soft toothbrush (not the same one you clean your dentures with).
Rinse your dentures in clean water before you put them back in your mouth.
If you would like any more information on dentures and oral hygiene, please contact us or schedule an appointment for a consultation.